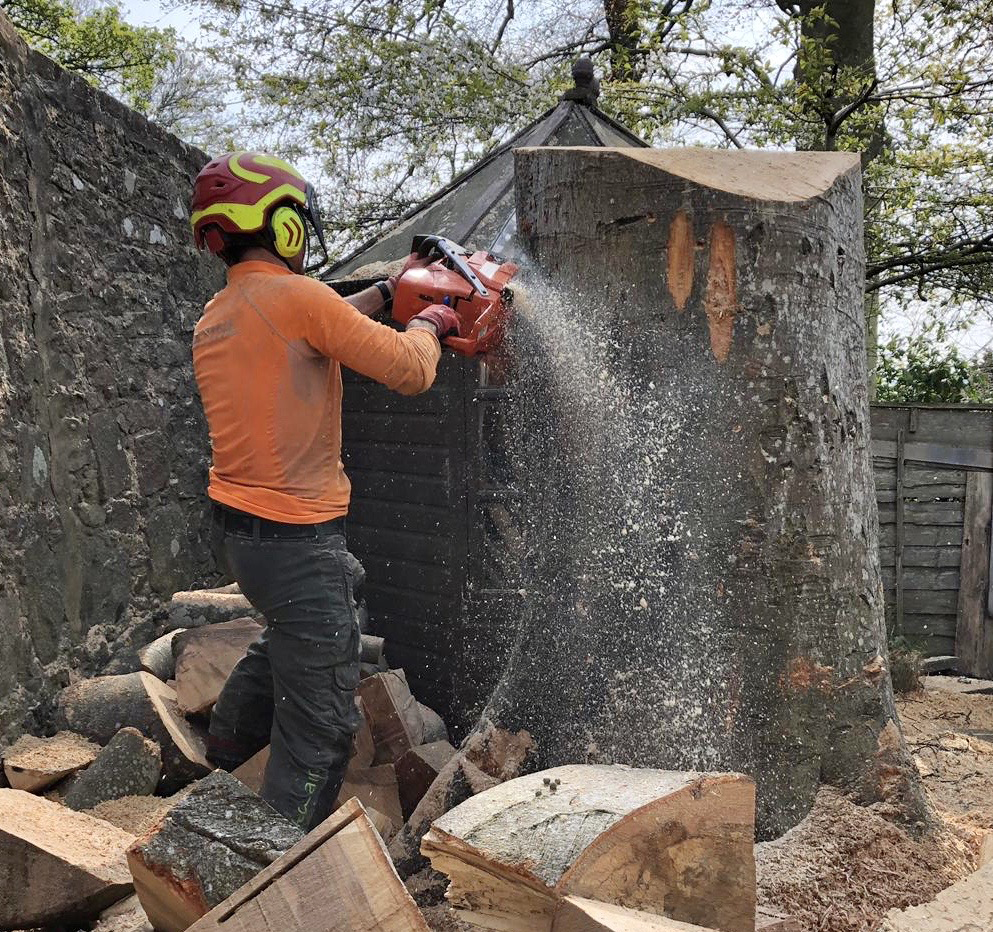 SG Tree Services is a professional, friendly and reliable tree surgery business, providing a range of tree services to both commercial and private  customers.  We are based in Alford, Aberdeenshire where our work covers the North East of Scotland.
Our service covers all aspects of tree work from simple pruning to large scale felling supplied by a professionally qualified team.  This allows SG Tree services to offer a complete package where we cover every area of tree work to a high standard to fit your requirements.
We are  available 24hrs a day to cover emergencies and also for your convenience.
We provide our clients with a complete selection of high quality tree and hedge maintenance services ensuring your requirements are met.  From private gardens to commercial projects, we are on hand to assist.  Let us help you with:
Tree felling 
Tree dismantling
Crown lift
Crown reduction
Thinning
Pollarding
Hedge trimming
Hedge reduction
Hedge removal 
Stump grinding
Removal of tree waste off site
Wood Chips available
Don't see what you need on our services list?  Not a problem, give us a call to see how we can assist you.
At SG Tree Services we bring our years of knowledge and experience to the table offering a fast and efficient service to our clients throughout Aberdeen and surrounding areas.  We focus on providing a reliable, trustworthy and cost effective service, ensuring all your tree and hedge maintenance needs are met.
We are a small owner run company that takes great pride in what we do. Our team pay close attention to detail to ensure that we provide the best services for the tree and to our clients on a daily basis.
Contact us today and see how we can assist you without delay.
Why Let Us Care for Your Trees
Having trees in your garden or commercial space can be highly beneficial. Let us take care of your trees with our host of quality and proven services so you can enjoy the benefits that trees provide in an urban environment.
Trees can create a beautiful visual effect in what would otherwise be a boring street. They add a touch of colour on pavements and along road edges. Trees are known to improve personal health, they can make you feel better, improve your mood and they reduce air pollution, essential in a built up city environment.
Trees help to reduce soil erosion while preserving water. They decrease noise pollution, increase wildlife and plant diversity and they cool streets on a summer's day.  In addition to this, having trees in your garden is known to increase your property value, offering valuable shade when sitting out in the sun, protecting you and your family from the dangerous UV rays of the sun.
We offer fast and effective services which are backed by years of experience. Our reliable and trustworthy team are passionate in what we do, while providing you, our client, with first class services and support.
Let us promote the health of your trees, improve your landscaping and eliminate safety hazards today. Contact us to find out more.
Our team can visit your business or personal residence in Aberdeen and give you a free quote today. We can assist you with any tree removal or hedge services within your property.